Peter Schiff afirma que Bitcoin está acabado
March 12, 2020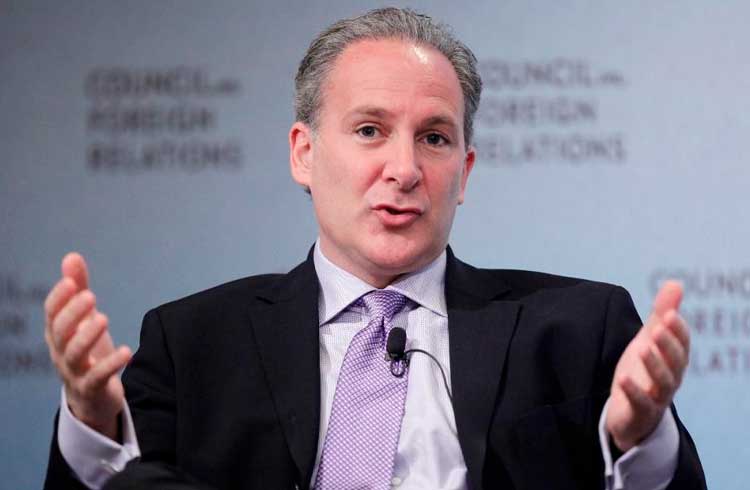 O CEO da Euro Pacific Capital, Peter Schiff, aproveitou a recente queda do Bitcoin para atacar a criptomoeda.
Desta vez, o defensor do ouro usou o twitter para afirmar que o Bitcoin falhou como um ativo de refúgio após ter saído junto com as principais bolsas de valores no início desta semana.
Nothing will help Bitcoin. Put a fork in it. It's done.

— Peter Schiff (@PeterSchiff) March 9, 2020
"Nada ajudará o Bitcoin. Faça um fork nele. Acabou."
CNBC não saiu ilesa
Schiff não atacou apenas ao Bitcoin, o CEO foi ao twitter para atacar o principal canal de notícias sobre negócios e investimentos, a CNBC, em seu tweet, ele afirmou que enquanto o Bitcoin estava subindo, a emissora dedicou grande parte de seu tempo às criptomoedas, mas ficou em silêncio sobre o assunto depois que o preço da moeda bateu nas pedras.
CNBC has not even mentioned #Bitcoin today. @CNBC spent months pumping Bitcoin as digital gold, a store of value that would outshine #gold as a safe haven during times of market turbulence. If Bitcoin was soaring today instead of crashing, the coverage would have been non-stop.

— Peter Schiff (@PeterSchiff) March 9, 2020
""A CNBC nem sequer mencionou #Bitcoin hoje.

@CNBC passou meses bombeando o Bitcoin como ouro digital, uma reserva de valor que superaria o #gold como um porto seguro durante períodos de turbulência no mercado. Se o Bitcoin estivesse subindo hoje em vez de cair, a cobertura teria sido ininterrupta."
Bitcoin é rentável
Apesar disso, Schiff já reconheceu que a principal criptomoeda do mundo é rentável e provou ser um bom investimento. Por outro lado, o entusiasta do ouro como reserva de valor acrescentou que o Bitcoin nunca irá competir com qualquer moedas fiduciária.
Em um post no dia 18 de fevereiro no Twitter, Schiff, que ficou muito conhecido por criticar abertamente o Bitcoin, publicou:
I concede that anyone who bought #Bitcoin 10 years ago and sells it today will make a lot of money. But I never said the price of Bitcoin could not rise. I only said that Bitcoin would never succeed as money. Nothing that has happened over the past 10 years has proven me wrong!

— Peter Schiff (@PeterSchiff) February 17, 2020
"Concordo que quem comprou o #Bitcoin há 10 anos e o vende hoje, ganhará muito dinheiro. Mas eu nunca disse que o preço do BTC não poderia subir. Eu só disse que o Bitcoin nunca teria sucesso como dinheiro. Nada do que aconteceu nos últimos 10 anos me provou que estou errado."
Leia também: Dólar registra o maior valor da história no Brasil, R$5 e "segura" queda no Bitcoin
Forex Crypto News: Cripto Facil